Phillips Collection started with Mark and Julie Phillips searching the world to discover designers and match them with an incredible range of production resources. Starting in Southeast Asia and continuing on to Africa, Latin America, Europe and the Pacific Rim, they've searched far and wide for exciting new products for their design-oriented customers. If you are looking for a unique product, Phillips Collection is sure to have it. They are also known to bring the fun and entertainment at trade shows, as seen recently at High Point Market with their #rhinoselfie contest! As the son of Mark and Julie Phillips, the VP of Sales & Marketing and one of the designers for Phillips collection, Jason Phillips was kind enough to answer a few questions of mine.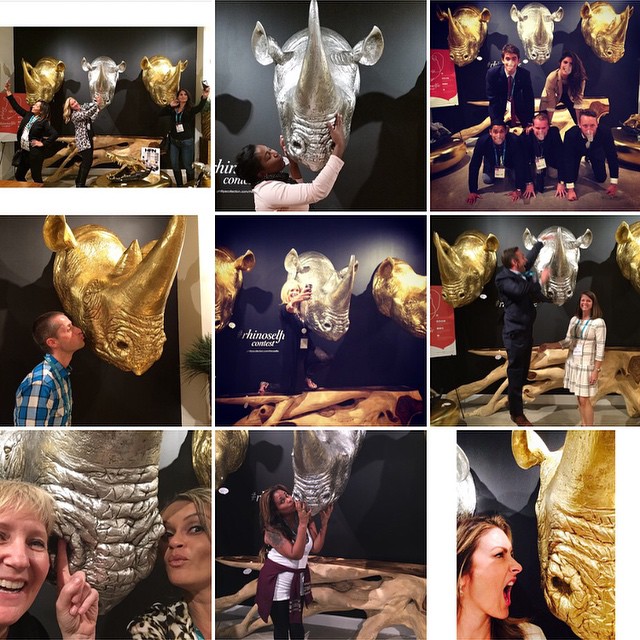 1. What has working in the Phillips family business taught you?
There are many things that come to mind- Patience, humility, hard work and doing something meaningful beyond the typical 9 to 5. The thing that stands out is passion. Anyone with an appreciation for art and design would enjoy working at Phillips Collection. We are a confluence of style, fashion, art, design, travel and luxury. All of this is with a strong foundation in bringing meaningful objects to market. From a young age I knew my parents were hard workers and trendsetters. Family trips were to southeast Asia and not city centers like Bangkok, Manila and Jakarta. We were adventuring off the beaten path to rural artisan communities discovering design and capabilities. Everything was then funneled back to the global marketplace, presented in a sophisticated fashion. For the first 20 years of my life I was an admirer of the family business with a good window into the operations. Now fully on board with 10 years under my belt, I have a different vantage point, but one thing has never changed- Hard work, fearlessness in creating new genres and categories, the way we think about our homes and the products that go in it, and above all, passion.
2. What's one of your favorite products that's ever been in the Phillips Collection?
Our Seat Belt Chair is hands-down my favorite product. It is iconic in so many ways. Beautiful in form, surprisingly comfortable and supportive, innovative, globally inspired, well-priced, available in a multitude of colors and quintessentially Phillips in its DNA. The chair was designed by a young Thai artist named Nuttapong and he has received some of the highest international honors for his work. The chair even got a cameo in "The Hunger Games." The chair celebrates its 10th anniversary next year and we couldn't be more proud of its success. It is now being sought after by museums for their permanent collection, a secret goal of mine for the last few years.
3. What was it like for you and your team to see that your Seat Belt Dining Chairs were featured in the 2012 film, "The Hunger Games?"
It was quite the surprise and we were only made aware of it a week before the movie came out. One of our client's kids noticed the chairs in the movie companion guide and quickly sent us a photo. We then looked at our order history for anyone who purchased a dozen green chairs and quickly tracked down Margaret Hungerford—the set designer for the movie, who was based in Charlotte where the movie was filmed. I couldn't find anyone to see the movie with me on opening night, so there I was—alone—front row at the local IMAX theatre. I got so excited when I saw the chairs on screen for a full 5 minutes, at 20 feet tall! We knew we would get calls from customers and friends that they saw the chairs but we were not prepared for how far it would catapult the fame of the item. Since the movie came out the green chair is now among our most popular. We have been written up in countless blogs and magazines and some customers have aptly named the color of the chair "Hunger Games Green." It is perhaps the most famous chair of the 21st Century.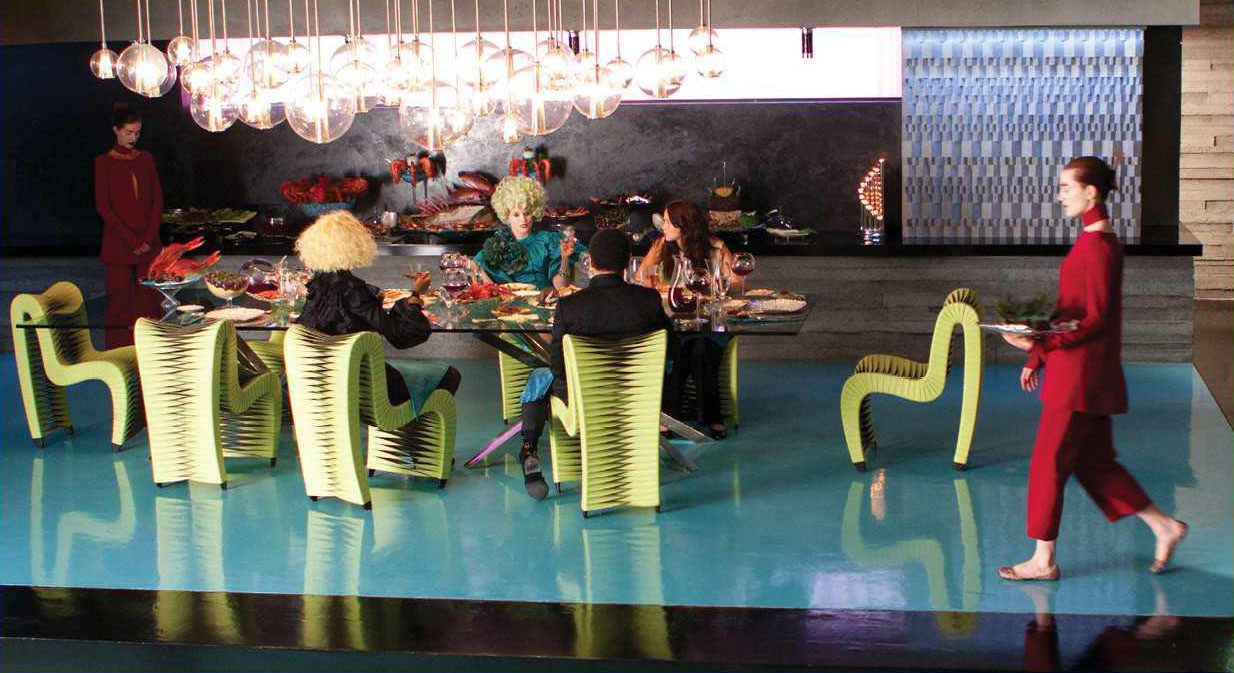 (Green Seat Belt Dining Chairs in "The Hunger Games")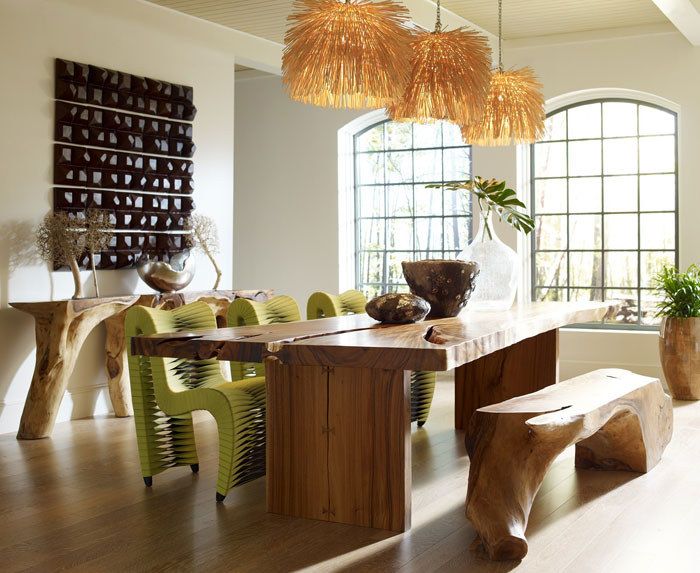 4. You travel a good amount in search of unique design concepts. Where would you say is your favorite place you have traveled to?
A difficult question to answer. We have traveled to remote islands in Indonesia in search of lost techniques, Vietnam for exquisite craftsmanship and Northern Thailand for exotic woods. In terms of a favorite destination which encompasses business and pleasure, it would have to be a city called Angeles, north of Manila in the Philippines. Some of our most unique items come from our manufacturing partners there and it really is the Phillips Design Laboratory. We have come to enjoy the local cuisine although I will never sample Balut! There are great diving spots along the shoreline and untapped islands you can hop to on a small boat. Any chance we get we do some exploring. It's a captivating part of the world.
5. You are one of the designers within the Phillips Collection, as well as the VP of Sales & Marketing. How do you make time for everything?
I am certainly not the hardest worker out there. Throughout my travels I have come across artisans who labor away day after day, factory owners who work in nearly every time zone, and I have a great example in my parents and colleagues. There are plenty of hours in the day to get through your work. What I try to do is be prompt, be quick and be accountable. If you have an email to write, don't let it linger. Send it off! Procrastination takes so much longer than actually committing to a project and accomplishing it. Design happens to be a process you cannot rush though, so I do have to find quiet moments to attend to that. At the end of the day it's about doing something you are passionate about. Because there is a spotlight on Phillips Collection it is easy to say "man, do they ever rest!?" but in reality I see busy and hardworking people every day. It is nice to know we live in a day and age that hard work often gets rewarded. Keep your eyes open and your minds active and you will find success.
Great advice and humble responses. A special thank you to Jason Phillips for letting us into his world !