Not only is their furniture high-quality, but they also make sure every step of the manufacturing process is done right. Copeland Furniture, a family-owned business based in Vermont for over 30 years, is one that sticks to Vermont's preservation values and takes pride in the quality of the environment and natural beauty that surrounds them. I had the opportunity to interview Ben Copeland of Copeland furniture to ask a few more in depth questions.
1. You started as a one-man operation in an old garage in East Corinth, Vermont. What would you say helped you to grow to be the state-of-the-art manufacturing facility that you are today?
What I can say for certain is that we didn't have in mind where we are today when the company was founded in 1975. At that time we were making apple cider presses for a garden supply catalog. That business was soon expanded to include butcher block tool benches manufactured for the same catalog. This was in the late 1970's as butcher block furniture was becoming popular. Spotting an opportunity we transitioned into the home furnishings market with a series of dining sets and kitchen utility carts. Probably the single most important catalyst, however, in our embrace of state-of-the-art technology was a factory fire in 1983 that burned our entire operation to the ground. It's not often that companies are given the opportunity to reinvent themselves from the ground up but that's just what happened to us at the precise point in history when CNC (computer numeric controlled) machining was becoming common. That fire and the subsequent process of rebuilding established a progressive corporate culture that extends beyond our use of technology and also includes facets such as lean manufacturing, contemporary design, sustainability and workers' safety.
2. What is a common hobby in Vermont that we might be surprised to hear about?
I'll give a lateral answer here and describe a hobby that's not so much surprising as it is so stereo-typically Vermont that one might doubt it actually happens. If you live in Vermont and own a parcel of land with a stand of Maple trees (which probably describes the majority of the state), chances are you're tapping those trees every spring and boiling your own maple syrup. It's an activity that conforms so thoroughly to people's idealized notions about the state that most visitors think it can't possibly be true.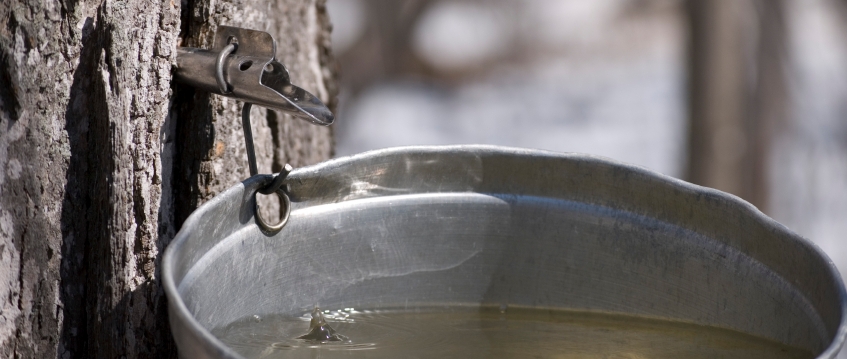 That's really neat! I can only imagine the taste of fresh maple syrup and the satisfaction that comes with making your very own. I read that you heat your building completely from wood waste from your manufacturing operation. That's super impressive. Can you tell us more about how that came about?
Well the process involved a capital investment in some fairly unique equipment but, in all honesty, making that investment was a no-brainer. Heating a large factory building in the middle of a Vermont winter is no joke. That statement alone is self-evident however when you consider that a typical finishing line needs to exhaust enough heated air to fill the entire factory many times over every single hour, it becomes apparent that heating is an issue to be taken very seriously. Considering that we produce more than enough fuel, in the form of sawdust and wood scraps to perform the task, the financial implications are inescapable. That this dovetails so well with environmental considerations is definitely a positive, however in this case, the financial benefits alone are unavoidable.
Do you have any advice for how to be more green in our everyday lives, besides making smarter furniture purchases?
While I don't limit it to furniture, I do think consumer purchasing habits are the single most important area of influence most of us have. That said, I think many miss the real point regarding their purchases. In terms of sustainability, I think the single most important issue is quality. Even the greenest products in the world have some measurable environmental footprint and if it's a low quality product that requires frequent replacement, then that footprint compounds every time the product is replaced. On the other hand, high quality products designed to last a lifetime are by definition green products. Where consumer behaviors are concerned this means making fewer purchases as quality inherently costs more, however those purchases will tend to be more meaningful, more personally rewarding and, as an added benefit, will result in a less cluttered living environment (another example of how sustainability naturally dovetails with any number of peripheral benefits).
What exciting new product can we be on the lookout for?
Well we have a constant pipeline of product development and while I don't want to be too specific just prior to our main industry trade show, I will say that we are developing some groups that emphasize lighter wood tones. The cyclical nature of fashion is well known and where modern/contemporary furniture is concerned, we are in the midst of a wave of interest in American black walnut. This was preceded by a period where dark wenge/espresso finishes were popular and that was preceded by a period where cherry was popular. However, leading edge design aficionados are always looking for the next big thing and this year's ICFF (International Contemporary Furniture Fair) in New York was dominated by light colored, open pored wood (species such as Elm, Ash and white Oak). Our immediate development efforts are responsive to this trend.
A special thank you to Ben Copeland for taking the time to interview with us! Check out our Copeland Furniture selection to see more of their great designs!