What's causing your stress? Issues at work? Lack of sleep? Social networking? More importantly how do you deal with it? Do you brew a pot of your favorite coffee? Sink into a cozy chair and read a book? Maybe going for a walk to clear your mind does the trick. Whatever it is that you choose, your physical environment plays a huge role in your well-being. With Inmod, we've got 5 easy décor ideas to help you de-stress in your everyday life.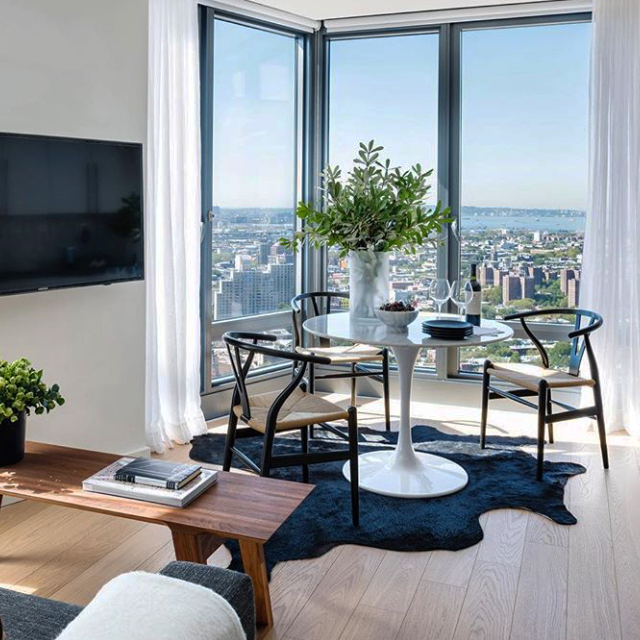 Let the light in
Spread those curtains open and let in that natural light. Research shows that natural light boosts vitamin D, and helps people be happier, healthier and calmer.
Pictured: Hans Wegner CH24 Wishbone Chair
The power of nature
Scent can be seen as a mood booster. Have fresh plants and flowers around to provide a natural aromatherapy, which can make all the difference when you start to feel sluggish.
Pictured: Hans Wegner CH23 Side Chairs
Shades of blue
The color blue evokes thoughts of peace, tranquility and serenity. Known to aid in reducing anxiety, as well as high blood pressure, the color of blue holds a great power in your overall well-being.
Pictured: Hans Wegner Elbow Bar /Counter Stool
Stay cozy
Whether next to your fluffy, four-legged friend or curled up with a fun fuzzy throw pillow, research suggests that interacting with pleasant textures stimulates the mind and reduces negativity.
Pictured: Molded Plastic Rocker
Easy on the eyes
Limiting the amount of pattern you bring into your space helps create a calm environment. Too much clutter can be overwhelming, so let's skip the polka dots and stick to solid colors.
Pictured: Greyson Sofa
Your home should be a reflection of you, you spend most of your time indoors so why not start there! Design with Inmod, built for the way you live.