Do you battle with the decision of whether you need bar stools or counter stools? Never fear, we're here with this handy-dandy guide to help you take the guesswork out of finding the best seating option for your space.
Measure twice, buy once! Determining your counter height beforehand will let you know whether a counter stool or bar stool is appropriate for your dining experience.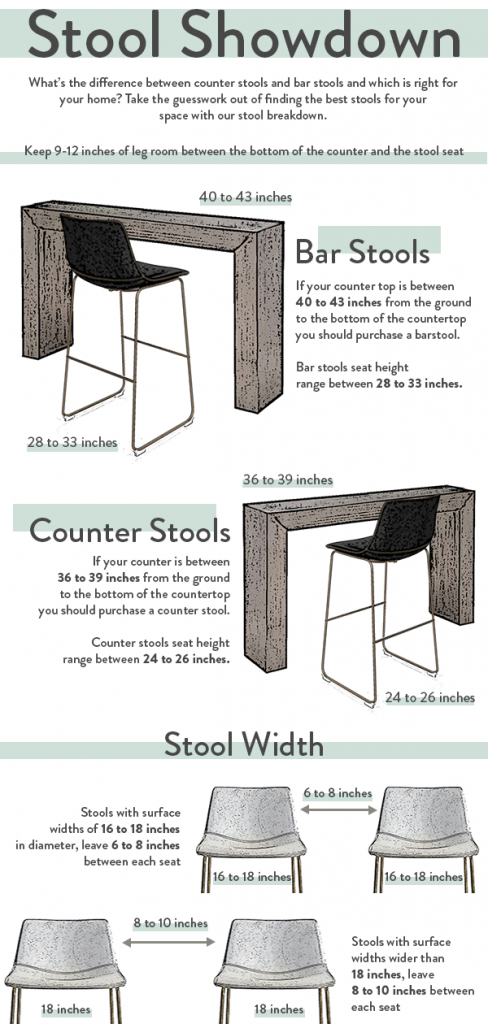 Bar Stools:
Tables 40 to 43 inches from the ground to bottom of countertop
Seat heights of 28 to 33 inches
Bar stools are appropriate for higher settings, like bar/pub tables, they allow more room for your legs while eating or drinking.
Counter stools:  
Tables 36 to 39 inches from the ground to bottom of countertop
Seat heights of 24 to 26 inches
Whether you're dining, sharing a drink with friends, or flipping through your favorite magazine, counter stools put you at the perfect height for everyday activities.
How many stools do I need for my seating area?
Its important to leave enough space in between your stools for easy maneuvering.
Stools with surface widths of 16 to 18 inches in diameter, its recommended to leave     6 inches in between seats.
Any seats wider than 18 inches, leave 8-10 inches in between, especially if the stool swivels or has arms.
When shopping for bar or counter stools it's very important to know the difference between the two. No one wants end up with stools that are too high or too short for their table and let's face it, returns can be a drag. Fortunately, this fool-proof guide is all you need to select the perfect stool for your space.