The holidays are near and its time for food, family and fun.  As we gather 'round the dinner table, for Thanksgiving, we're met with a decadent spread filled with all sorts of delicious dishes: the perfect roasted turkey, tempting sweet potatoes, creamy mac and cheese, your aunt's infamous pumpkin pie and so much more. Now that dinner is done, you're stuffed! You've eaten yourself into a food coma and all you want is to sink into a nice comfy couch.  So we wanna know, what's your case of the perfect Thanksgiving sofa?  We surveyed employees here at Inmod to find out.

After eating a big meal, 50% of employees prefer crashing on a sofa, 37% of employees prefer a spacious sectional, and 12% prefer to curl up solo on a lounge chair.

No doubt that the majority ruled in favor of plush sofas over firm ones, and for neutral colors like black, brown and grey. A third of employees find comfort in bold colors like pinks, blues and greens.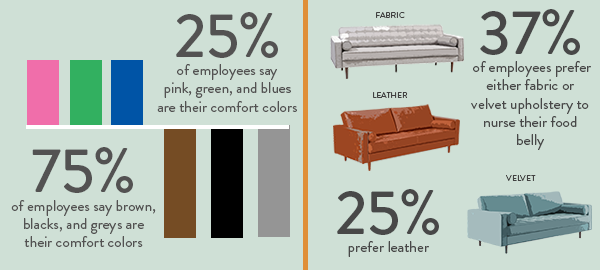 The food belly is so real. Which upholstery do you prefer to cradle your food belly? A portion of the office was tied 37.5% between fabric and velvets, yet the remainder of those polled at 25% don't mind relaxing on a leather couch.
The great Thanksgiving debate, turkey or no turkey? Coming in hot, with the top pick at 87.5%, employees would rather ditch the turkey and head straight for the sides.

After dinner drinks anyone? Wine/beer and spirits were the top choices for employees, while others prefer non-alcoholic beverages.
Its not Thanksgiving unless there's a special guest, right? Which would you rather? A celebrity chef to cook dinner or your favorite celeb to join in at the dinner table? Coming in at 62.5%, more than half of employees would rather have a celebrity chef to cook Thanksgiving dinner, rather than inviting a celebrity over to eat dinner.
Mom tells you to stay out the kitchen and don't pick at anything because you'll spoil your appetite.  As you're waiting all day to eat, what are you binging?

Thanksgiving is all about the spirit of giving thanks, being surrounded by the warmth of friends and family, and creating a comfy space for food comas. Out of all holidays, its just about everyone's favorite. We want to hear from you too! Take our survey and share your thoughts below.