This year you've taken on the mighty task of hosting your family's holiday dinner party, this can be a tricky undertaking so we want to make sure you're prepared in throwing a no-stress gathering. There are two important things to factor in when creating your seating plan:  accommodating all your guests, and seating arrangements. Having enough seats is essential, there's always that family member who ends up bringing a plus one or even two, so being prepared is a must.
How many people are expected to gather? Whether you're a family of 4 or 14, be ready. Use the following logic when creating your seating plan:

Tables that measure about 48" long are able to fit a party of 4.

Tables of at least 60" long can hold 4 to 6 guests.

6 to 8 guests can fit comfortably at a table at least 72" long.

For bigger parties, of more than eight guests, its ideal to split the party into two tables, or go for tables with an extendable feature. This way you can assure everyone is dining with ease, while having comfortable leg room.
When assigning seats be strategic. Our families are filled with different personalities, and each person brings something different to the table. So, knowing who will click and who will clash sets the tone for dinner.
Its best to start with someone whom everyone can get along with, "a charmer". This person is known to make great conversation with just about anyone and can handle awkward moments the best. Place this person next to anyone except you, the host.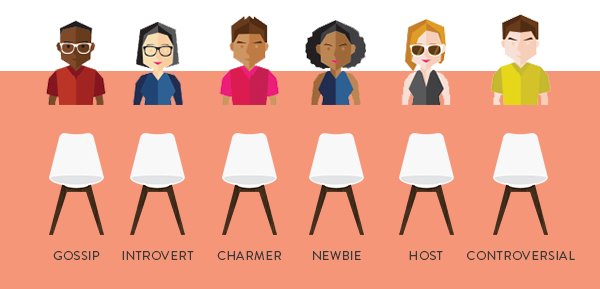 Debates over controversial topics are sometimes inevitable, and there's always that one passionate person whose ready to get the conversation going. Avoid placing them near any introverted or gossipy folks, this eliminates the possibility of having them next to someone who might judge or question them. But let's face it politics are such a touchy subject, it can spark a heated debate across the whole table.
Don't forget about those plus ones. This can be a friend, or significant other of a guest whom you don't know very well. They're usually pretty nervous, or very quiet and observant, place them next to the charmer, or even yourself. Having someone warm and nice can help ease their nerves.
Above all, enjoy yourself and have fun. As long as you plan ahead your future self will thank you. A great seating plan helps keep the party going and the conversation flowing.